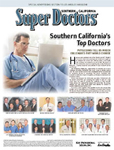 Dr Richman Name as a Leading "Super Doctor" for 7th Consecutive Year!
Los Angeles Magazine's "Super Doctors" is considered a preeminent database for patients to find the top physicians and surgeons in Los Angeles. The company identifies the top doctors, as selected by their peers and further verified by independent research.
Click here to read the article.
How LDL Particles Cause Atherosclerosis
Welcome to The Center for Cholesterol Management. For the past fifty years, medical science has learned a lot about the causes of heart disease. At first, doctors looked at total cholesterol numbers but then discovered that not all cholesterol was dangerous.
That's when doctors discovered the importance of identifying the different types of cholesterol - LDL (the "bad" cholesterol) and HDL (the "good" cholesterol). Generally speaking, the lower the LDL numbers and the higher the HDL numbers, the better.
While measuring cholesterol is helpful, knowing these numbers isn't enough for all patients. Doctors are beginning to realize that determining your risk of a heart attack is not as simple as just measuring your cholesterol. A staggering fact shows this:
Doctors now know that approximately 50% of people who had heart attacks have had "normal" cholesterol numbers at the time.

This has caused many doctors to look for answers beyond cholesterol.